Truck body & Speciality Fabrication
Welcome to Mecalfab's Truck Body & Specialty Fabrication section, where innovation meets versatility in crafting customized solutions for your unique transportation needs. With a profound understanding of diverse industries and their specific requirements, we take pride in delivering top-notch truck bodies and specialized fabrications that excel in durability, functionality, and design.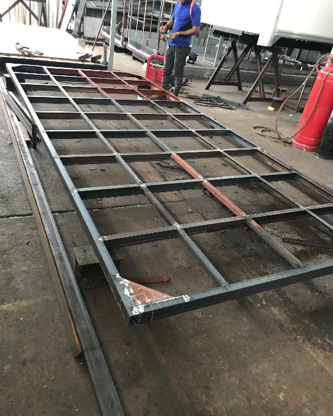 Steel Floor and Sub-Chassis
Extra heavy duty steel floor and sub-chassis using 2" x 4" ASTM E36 structural steel "I" sections and 3" x 4" steel "C" sections. Sub-chassis is prepped to SSPC-SP3 and zinc chromate primed then rust-proofed with bitumastic underbody coating.
Cast Aluminium or GRP Corner Caps
Cast aluminum or structural GRP corner caps and extruded 3003 aluminum corner posts and top rails. One piece roof covering ensures a lifetime without leaks.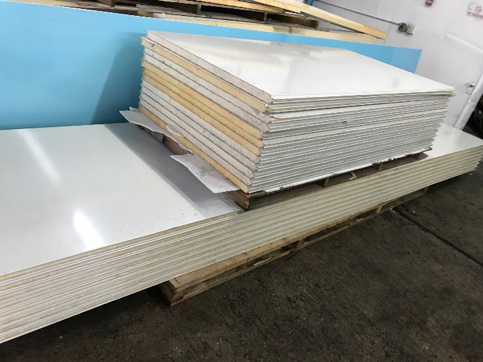 Structural Composite Panels
Main body formed with structural composite panels consisting of an outer sheet metal facing of .78mm thick smooth pre-finished steel with 20 year white PVDF coating. Inner sheet metal facing is .53mm thick ribbed steel with white silicone modified polyesther coating. Foamed-in-place insulation is polyisocyanurate with 1 hour fire rating. Composite panel construction ensures a rigid body for the lifetime of the vehicle.
Refrigerated truck bodies have insulated sub-floors, with poured polyurethane insulation foamed in place.
We also offer fabricated aluminum "reefer" style floor for the ultimate in sanitation and air flow.
We offer direct-drive engine driven and self-contained diesel powered heavy duty truck and van refrigeration units.
Salon Essentials
Salon Essentials, a Division of Mecalfab Ltd. was opened in 2000. We distribute to Salon Professionals.
Click Here
Styrotex
Mecalfab manufactures a wide variety of expanded polystyrene products under its "STYROTEX" brand name.
Click Here